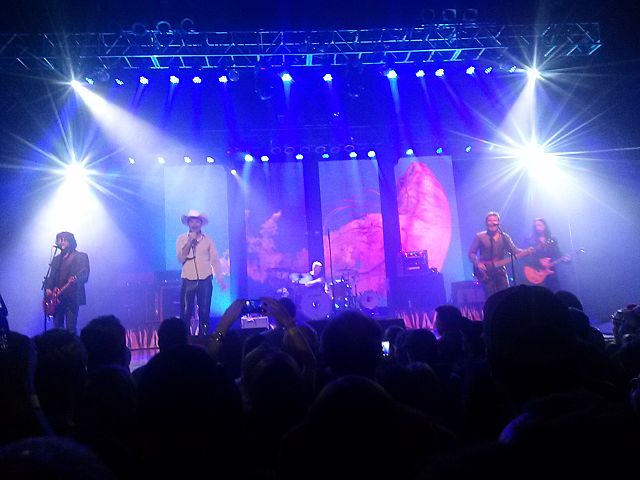 As a long time metal head from the 1970's I used to take a lot of flack from my buddies over some of my choices in music. My love for art rock was tolerated and why not seeing as a great many of the hard core metal bands would often cite bands like Rush, Yes and Genesis as major influences in their own musical journeys to greatness. My interest in Rock Fusion Jazz was politely ignored for fear of bringing up the subject would result in a rather lengthy session of Spyro Gyra and Return to Forever's The Romantic Warrior.
But of all the hassles I received over the years for my musical choices I think I got the most grief from being an early adopter of The Tragically Hip music. I would get comments like "What the hell do you want to go see them for and do a bunch of pogo-ing?" For those of you who don't know the term pogo-ing refers to standing in one place and bouncing to the beat of the music. Let me tell you that The Tragically Hip was a great band to go pogo-ing to, I can't even count how many times I saw this great band in their early years at some really small venues here in Vancouver.
Now I wasn't a big fan of their first album but their second album "Up To Here" is a classic with a lot of great songs like "Blow at High Dough", "New Orleans Is Sinking", and "38 Years Old" which are radio staples here in Canada with their thoughtful and easy to sing along with lyrics. Who can resist singing "he's 38 years old and never kissed a girl" when the chorus rounds to that easy to identify with phrase or when the chorus bops around to "New Orleans is sinking, man, and I don't want to swim?" Nobody with skip in their step that I know of.
Around the time "Up To Here" came out a friend of mine went on a trip to Australia and being a big music fan he went in to a record store to check out the local Aussie scene. While browsing the stacks he asked the store attendants if they had ever heard of the Tragically Hip and not surprisingly, they had not. Being the proud Canadian that he was he pulled out one of those new fangled CD recordings and they played it in its entirety in the shop and made some instant early down under fans for our little bit of Canadiana. As I type this "Boots or Hearts" started playing and it is not possible to avoid snapping your fingers to this great break up song. "Fingers and toes, fingers and toes. Forty things we share. Forty-one if you include, the fact that we don't care"
I recall listening to the legendary band manager Bruce Allen radio show one evening back in the 80's where he was once again getting the gears from a caller about how "he blew it when he passed on taking on The Tragically Hip as clients". I will always remember him saying that listening to their music was like listening to paint dry which was an interesting spin on the idiom but it sure did lower my opinion of Bruce Allen. Of course my opinion of Bruce Allen was never that high to begin with due in large part to Canadian radio icon Jack Webster's total dislike for Mr. Bruce Allen. Jack Webster introduced my grandmother to her last great relationship but that is a different story for another time perhaps. No Bruce Allen just couldn't be that bright seeing as he refused to acknowledge the great lyrical work of Gordon Downie and lacked the character to admit he was wrong.
The last time I saw the Tragically Hip was when they were headlining the 1991 New Year's celebration "Under The Sails" at the new conference center on the waterfront. The show was fantastic with lots of pogo-ing going on. I recall my spirits being lifted a little as my ass kept getting pinched by a couple of shy gals who would pogo out of the crowd to grab a handful of butt cheeks before melting back into the crowd before I could catch them in the act. I never did find out who they were but it wouldn't have mattered too much as I was heart broken at that time and no amount of anonymous sex would have righted my mood completely. It was a surreal evening to be sure that marked a strange point in my life with memories that linger to this day. I still have the commemorative champagne flutes from that night, they sit high upon my mantle as they always have. Of course I also have the Tragically Hip to remind me of the night that my youthful pursuits ended. But that is an even longer story and one.
Gordon Downie I was so sorry to hear about your medical problems and I shall be thinking of you, your family, friends and bandmates in the days ahead. Your poetry has always spoken to me and it always will regardless of how anybody else feels about it. Thanks for the memories, bitter or sweet, that accompany your words when the music plays on as it surely will.